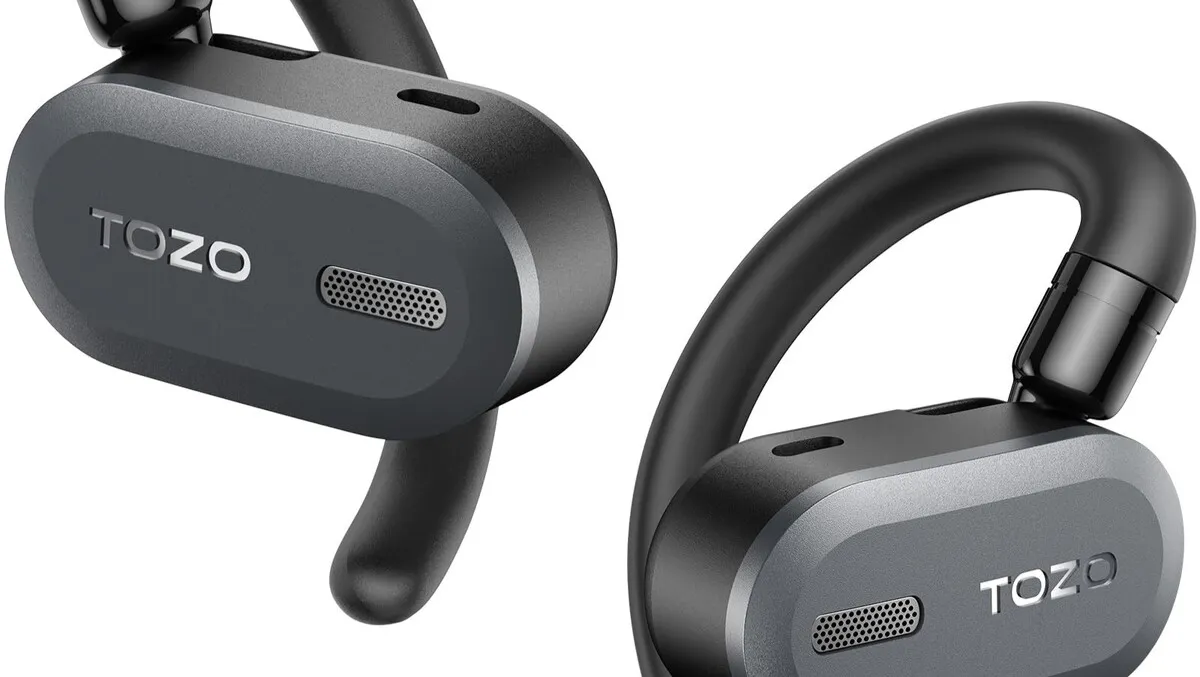 Hands-on review: TOZO OpenBuds
2023 has been quite a busy year when it comes to Bluetooth-enabled headphones. Techday NZ has been lucky enough to review several different headphones throughout the year, and most of them have been pretty good. Well, today, we get a chance to review the TOZO OpenBuds.
With Samsung and Apple doing away with the old headphone jack in their flagship mobile phones, there has been an increase in demand for wireless earbuds and headphones. The most famous and expensive pair of headphones you can get is Apple's own AirPods which usually retail for around $300 NZD.
Thankfully, if you don't have high disposable income like me, there are other companies offering cheaper alternatives that still have high-quality sound. The TOZO OpenBuds we have reviewed only cost around $120 NZD from the official website or from Amazon.
One of the main problems I had with previous earbuds was that they didn't fit onto my ears properly. Not to mention, they would easily fall out of my ears if I stood up and went for a walk or run. I usually don't have this problem when I wear traditional wired headphones in the past.

However, the TOZO OpenBuds I used for the better part of one week are comfortable and are able to stay on my ears when I'm out for a jog. This is because the OpenBuds have a curved strap that perfectly goes over your ears. This strap ensures the OpenBuds are secure and won't fall out of your ears easily!
For some reason, some of the other earbuds I reviewed in the past gave me a small headache after prolonged use. I did not have a headache or any other problems using the TOZO OpenBuds, which is a very good thing. I can see myself using these as my main pair of headphones going forward in the future.
As expected, the sound quality of the OpenBuds is immaculate. I've I have been listening to Paramore lately to hype me up for their upcoming New Zealand concert, and the sound is crystal clear and loud. Not to mention TOZO also has its own Android and iOS app if you want to tinker with the audio like adding bigger bass or something like that.
The last positive thing I can say about the TOZO OpenBuds is that they have a pretty good battery life. The OpenBuds itself can last for around 12 hours, but this increases to 30 hours when you include the juice left by its carrying case. It also comes with a USB Type-C cable included if you need to charge it to full capacity again.
As much as I liked the TOZO OpenBuds, there is one weak aspect of them. The one thing that disappointed me most was its lack of noise-cancelling capabilities. I was jogging around the block, and I could easily hear the cars that were zooming past me. There was also a plane flying overhead that I was able to hear clearly, too. I had to
increase the volume above the normal range to drown out the noise that was around me.
Aside from its lack of noise cancellation abilities, I still had a great time using the TOZO OpenBuds. The sound quality is excellent, and the design of the OpenBuds also ensures they are unlikely to fall out of your ears. This is highly recommended if you're looking for more affordable Bluetooth headphones.