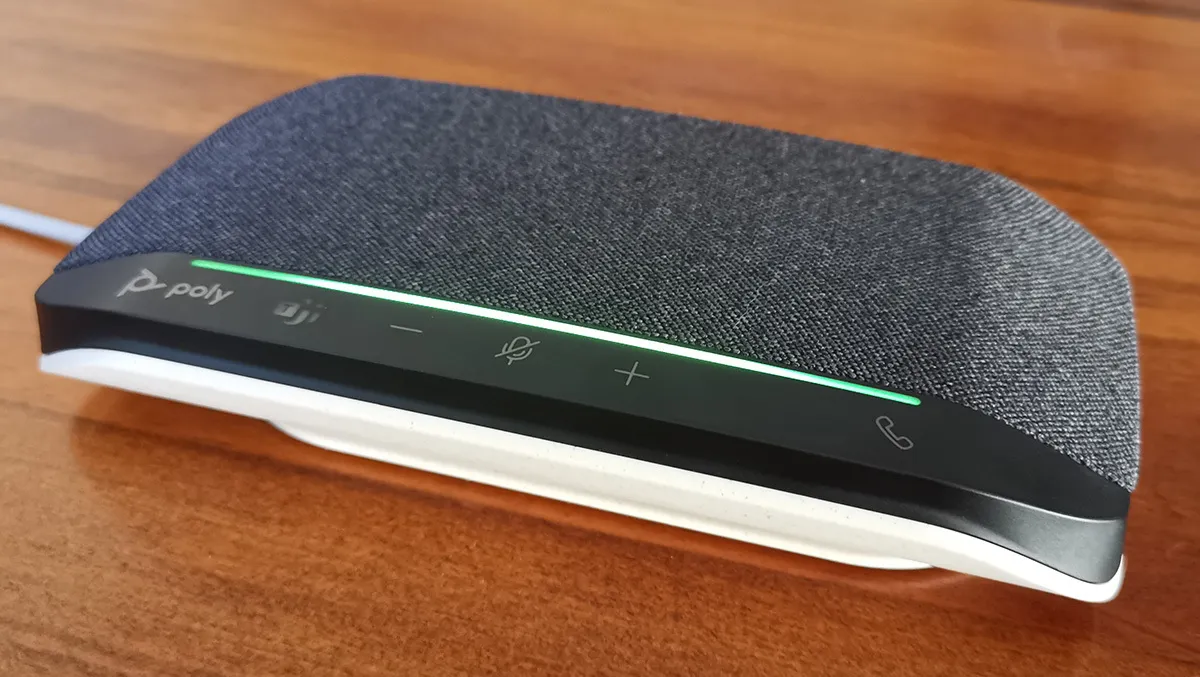 Hands-on review: Poly Sync 10 USB Speakerphone
Tue, 9th May 2023
The Poly Sync 10 is a compact USB speakerphone. With a footprint only just bigger than a mobile phone, this lightweight device is a portable audio solution for professional conference calls and video meetings when on the go.
As advanced as laptop audio is right now, it is not really suited to video and conference calls that have, since the pandemic, become an ordinary part of our working lives. Clients and colleagues listening to a tinny voice or getting awful reverb and background noise are not very professional. Sure, you can wear headphones with a mic, but again, you are on a professional call, not playing a video game. Headphones are out if you are joined by others, all having to crowd around the laptop to be close enough to the mic, which isn't a good look.
There are many different speakerphones available, but most belong as a permanent fixture in the boardroom. The Poly Sync 10 is almost small enough to slip in your pocket, with a footprint only slightly larger than my mobile phone. This means you can have this little speakerphone in your laptop bag, ready for a professional conference call wherever you are.
The 700mm USB Type-A cable allows the speakerphone to be positioned in a central location away from the host device, if necessary. This allows a small group of people in a room access to a microphone with the laptop camera positioned to have all the local participants in view. Included in the box is a USB Type-A to USB Type-C converter allowing the speakerphone to work with older devices.
Other than some safety documents, and a piece of paper directing you to the Poly website, there are no detailed instructions. The PDF instructions are not hard to find on the website, though, and are easy to understand.
The speakerphone has a neutral design giving it a stylist but reserved look. The grey top is complemented by a speckled white base. The USB cable can be wrapped and clipped into the base, out of the way, when not used. Whilst fairly light, 280g, the device feels pretty robust. It is a shame it doesn't come with a little bag or case to protect it when out and about.
Plugging the Poly Sync 10 into my laptop had it instantly recognised as a speaker and microphone, the front glowing to confirm it was connected. On the top of the device, just in front of the speaker/mic, are five touchpad buttons. The Microsoft Teams button can be used to start the Teams desktop application; the button flashes purple to alert the user of a Teams meeting or notification. There are also volume buttons and a microphone mute button. The phone button can be used to start or end a call and hold calls with a long press.
Poly states that the microphone pickup range is 1.5m, which is about right as at 2-2.5m, the audio started to get too quiet for the receiving person. The microphone has noise and echo reduction, giving your voice a fuller sound and removing hums and background chatter.
The Poly Sync 10's speaker is impressive. It's good enough to listen to music or play games over small and average laptop speakers. It's even got a bit of bass to it. And, of course, meeting conversations are crisp and clear (depending on what setup the person at the other end has).
The Poly speakerphone is compatible with PC and Mac, but not mobile phones. I thought it might work when plugged into my phone via the USB Type-C socket when the phone was in speaker mode, but it didn't. I could use it as an external hi-fi speaker for Spotify connected to my phone, which was pretty good.
The smartphone settings and firmware can be updated via the Poly Lens application, which is free to download from the Poly website. There are minimal settings that need tweaking as the device runs pretty much straight out of the box.
The Poly Sync 10 is a compact and easy-to-use USB smartphone. Its small size means you can take it with you and set up calls with multiple participants in your meeting room or even gathered around a laptop in a cafe, all being pickup by the mic and with crisp and clear audio.