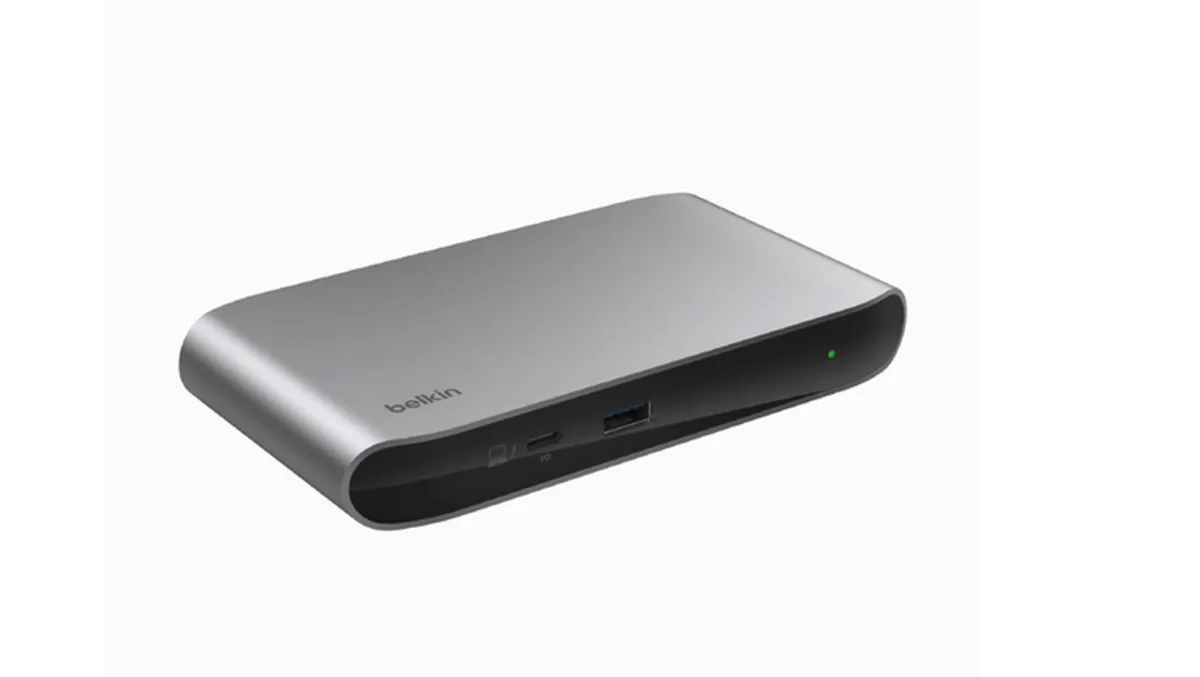 Hands-on review: Belkin Connect Thunderbolt 4 5-in-1 Core Hub
Having marked its 40th anniversary as a market leader and innovator earlier this year, Belkin continues to impress with its latest range of Thunderbolt 4 hubs. If you need a compact solution to help you get the most out of your workstation, Belkin's new Connect Thunderbolt 4 Core Hub might just tick all the boxes.
Thunderbolt 4 technology is paramount for anyone with new, high-performance devices and allows power, data transfers and video connection via a single, universal port.
Given its handheld size and modest weight, the 96W of charging power on offer from the Connect Thunderbolt 4 Core Hub may come as a bit of a surprise. It also means the hub is perfect for those on the move, offering a total of five ports to maximise your laptop's usability.
Four of the five ports are Thunderbolt 4 (compatible with Thunderbolt 4, Thunderbolt 3, USB4 and USB-C enabled devices), with the fifth being reserved for USB-A.
Looks-wise, the Connect Thunderbolt 4 Core Hub is smooth and curved, wrapped in a titanium grey-coloured aluminium. The front and back are finished in a black glossy plastic, which compliments the rest of the device's metallic-look perfectly, although it may show scratches over long-term use.
Three of the Thunderbolt 4 ports are located on the rear of the hub to enable better cable management, with the fourth sitting at the front alongside the USB-A port – perfect for an older mouse or keyboard, or simply for charging an older device. A green LED light on the front of the hub is the only other noteworthy things to mention about the otherwise minimalist design.
The Connect Thunderbolt 4 Core Hub is powered via a 150W power supply unit, which simply plugs into the back of the device.
Multi-monitor support will no doubt be the primary use of the Connect Thunderbolt 4 Core Hub.
There's high-resolution support for two 4K screens at 60Hz or one 8K monitor at 50Hz. The hub also allows you to daisy chain up to six devices, enabling ultimate efficiency for you and your workstation.
The hub boasts data transfer speeds of up to 40Gbps via Thunderbolt 4, which translates to a download speed of less than 10 seconds for a 4K movie – a whopping eight times faster than USB 3.0. Even the USB-A port offers an impressive 10Gbps transfer speed.
The 96W of available upstream power can be used to charge any Thunderbolt 4-enabled laptop, such as some of Apple's Mac and MacBook Pro range. Up to 15W downstream charging is available to other connected devices. It's worth noting that overcurrent protection features for peace of mind.
Belkin also recently released a more premium Thunderbolt 4 offering with its Connect Pro Thunderbolt 4 Dock, which boasts a total of 12 ports, though this isn't a requirement for the average consumer. For most, the Connect Thunderbolt 4 Core Hub would certainly suffice.
Available now for NZD $329.95, the Connect Thunderbolt 4 Core Hub certainly ticks all the boxes for anyone with a workstation at home with one or two high-resolution displays, or perhaps graphic designers, photographers or videographers who would also make full use of the ability to transfer large files at high speed.