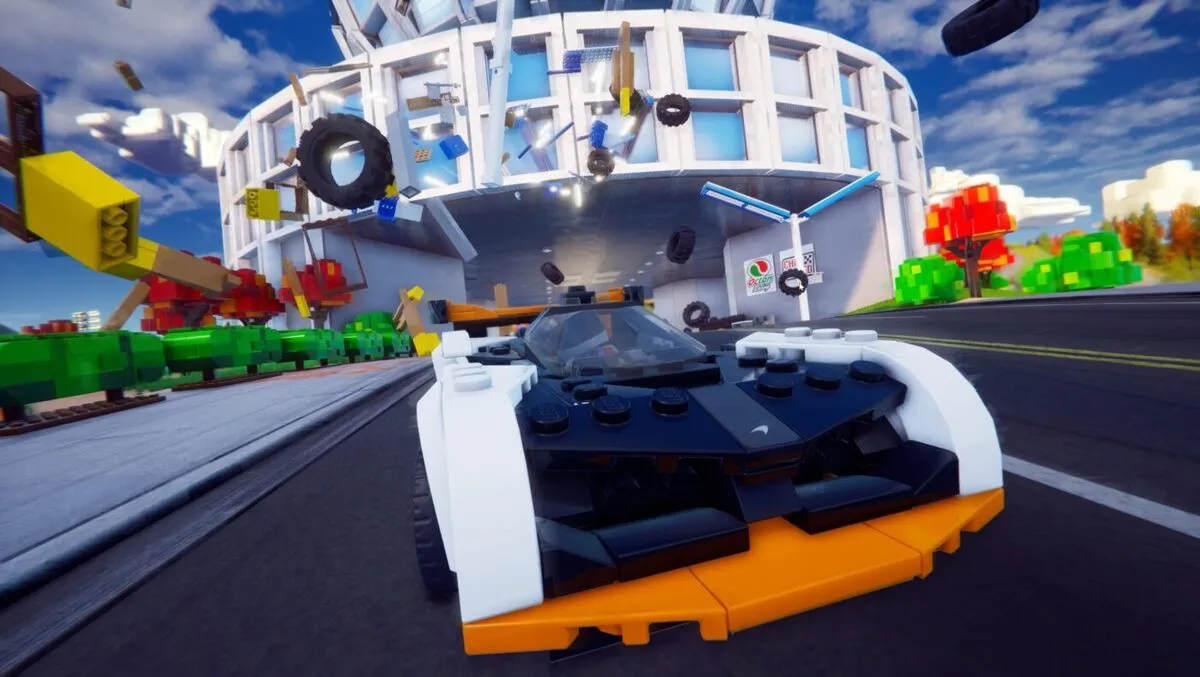 Game review: Lego 2K Drive (Xbox Series X)
When it comes to open-world style racing games, nothing really comes close to the fun and enjoyment of Xbox's Forza Horizon franchise. For ten years, the series has wowed Xbox gamers with its five iterations that have been released to date. The only thing that's a shame is that the franchise is an Xbox exclusive.
For young (and old) PlayStation and Nintendo Switch players, you can now play a fun alternative released this year called LEGO 2K Drive. This is a somewhat similar open-world style racing game featuring the fun and playable ability of Lego bricks!
For starters, Lego 2K Drive is one of the best-looking video games that I have played all year long. Most of the roads, cars, buildings and vegetation have been built using actual in-game Lego bricks. The colour palette in this game is very bright, and the game really pops out if you're playing it on a decent TV screen.
Lego 2K Drive also features many different-looking biomes. There's a desert-style cowboy area, a wonderful countryside location and even a place where the entire place is haunted. The open-world environments aren't as large as in Forza Horizon games, but that does not mean that there are not a ton of things you can do in this game.
One thing I like about driving in Lego 2K Drive is that many things are breakable in this game. For example, you can ram into innocent motorists in this game, and their vehicles will fall apart like realistic Lego bricks. Many trees and other pieces of the environment can break apart like bricks too.
Another thing that I admired is that this game features actual Lego sets that were available in stores recently. My favourite vehicle in the game is a fast McLaren that is a part of Lego's Speed Champions range. They even added a recent jet from the Lego Creator series too.
Probably the biggest gimmick in Lego 2K Drive is that you can change your car into three different modes depending on the type of terrain that you are currently driving on. Normal cars are used when you are driving on the road, while 4-wheel drive vehicles are transformed when you are off-road. Finally, your vehicle can change into a boat if you are riding on any body of water.
Several races can include all three types of terrain which makes driving in this game very fun and unpredictable. It also means that you have to choose the right type of vehicle for the terrain if you want to go faster or have better handling.
To make things even more interesting, races also allow you to pick up special power-ups to aid you or deter your opponents. There are missiles and even a paint gun that you can shoot at opponents if they are trying to overtake you. There is even a special ability that can boost you to first place if you can use it properly.
On top of that, you have a boost meter that fills up if you need some extra juice to get you over the finishing line. This game also features a jump button if you want to grab a specific power-up that you might need to further win a race.
Instead of traditional races, there are a ton of side-quests and other pop-up activities that you can do in the career mode too. Some of these events include time trials, drifting challenges or even trying to save people from skeletons. The variety of gameplay modes allows this game to be interesting without being too repetitive.
Another huge gimmick of this game is car customisation. The more you play through the career mode; you can get to race inside many cars of the bosses you face. You can change the colours of any car or you can add stuff to it to make it look better.
However, arguably the best feature of this game is that you can create/build your own car from scratch like a real Lego set! There are a ton of actual Lego bricks that you can use to build any type of vehicle you want. Personally, I wasn't good enough to build anything cool, but I'm sure the online community will be able to create something worthwhile using this mode in the game.
Outside of the single-player mode, you can play through some mini-games and individual races and cups separately. Aside from online multiplayer, Lego 2K Drive also includes split-screen gameplay too. The game's graphics and performance aren't even hindered when you play split-screen multiplayer, either!
As fun, as this game is, the only thing I didn't like about Lego 2K Drive is its levelling-up system. Many races and events in the career mode are blocked until you can reach a certain level. This wasn't too much of a problem at the beginning, but it became a pain when I had to gain up to level 20. I only followed the main quests and only got up to level 14. This meant I had to do a ton of repetitive quests to get up to level 20!
Aside from the levelling-up system, I had a ton of fun playing the majority of Lego 2K Drive's game modes. This is a really fun alternative to the Forza Horizon series and it's a game that can be enjoyed by people of all ages.
Verdict: 8.5/10