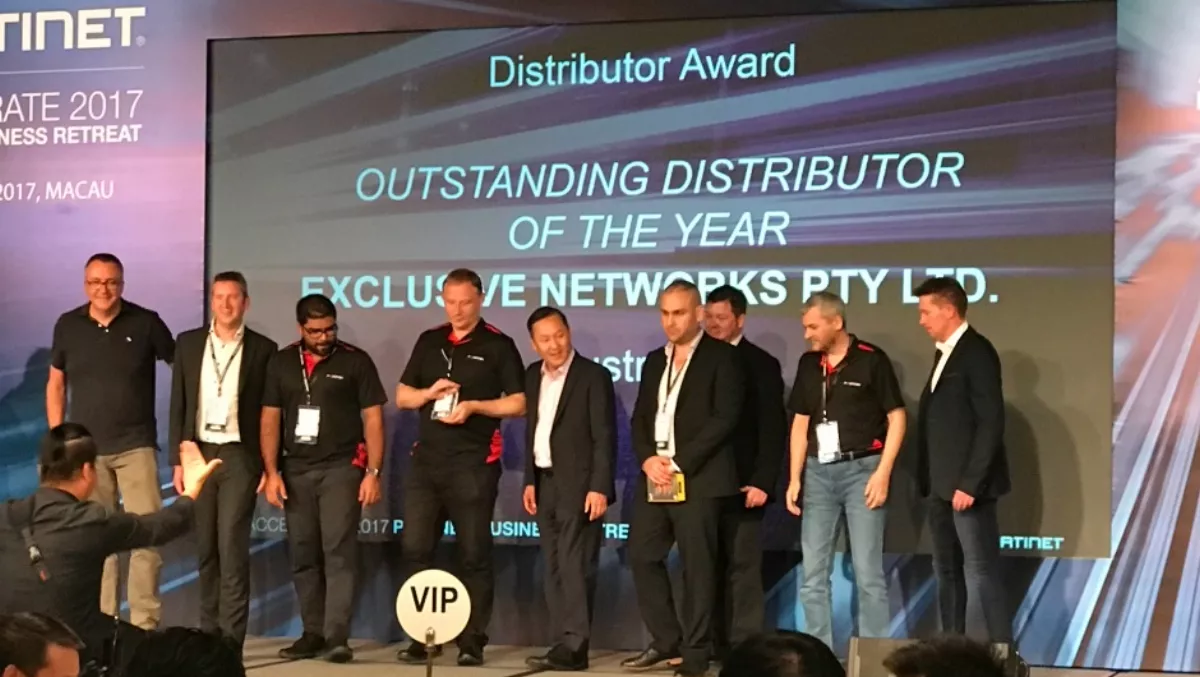 Exclusive Networks wins big with Fortinet
FYI, this story is more than a year old
Exclusive ​Networks' is celebrating quadruple glory as its Fortinet partnership goes from strength to strength.
The distributor has taken out Fortinet's Outstanding Distributor of the Year for Asia Pacific at the vendor's Accelerate 2017 Partner Business Retreat in Macau, where it was also recognised for more than a decade of partnership with the security company.
The celebrations didn't stop there, with an Exclusive Networks' team placing second in the Asia Pacific FortiMastermind Quiz Challenge 2017 and capping it all with its first NSE5 trainer qualification, for Robert Reynolds.
Dominic Whitehand, Exclusive Networks APAC managing director, says the Outstanding Distributor of the Year award reflects the efforts of the entire Exclusive Networks team.
"It truly takes an entire team of people to orchestrate and deliver such a successful supply chain as we have for Fortinet," Whitehand says. "From sales, technical, accounts, marketing and systems to admin, customer service and logistics/warehousing – right across the board the contribution from our team is in a manner that cohesively ties together the entire whole – to effectively deliver results for our suppliers and to our customers.
"It's fantastic to have our vendors recognise this.
Exclusive had two teams who qualified for the Asia Pacific FortiMastermind Quiz finals with system engineers Stuart Macdonald and Paul Hocksenar leading for most of the competition – which featured teams from 10 countries – before being beaten out of top position with a single question.
"Having our team do so well in the FortiMastermind competition shows the depth of knowledge and experience that we have in our technical team, but moreover it proves the passion and focus which our engineers use to develop that depth," says Whitehand.
Jon McGettigan, Fortinet Australia, New Zealand and the Pacific Islands senior director, says the second-placing demonstrates Exclusive's 'first class cyber security expertise and the dedication to having the highest levels of Fortinet NSE certification'.
"Our broad partner network unwaveringly continues to deliver the best cybersecurity solutions to defend customers against increasingly sophisticated threats," McGettigan says.
Kaarena Chapman, Exclusive Networks business unit manager for Fortinet, says the placing further highlights the distributor's ability to provide technical assistance to the channel.
"We really work around upskilling our partners," Chapman says.
As well as NSE5 trainer Robert Reynolds, Exclusive has three qualified NSE4 trainers.
Chapman says that enables Exclusive to services ranging from providing an introduction to Fortinet for new resellers, or an update for established partners, through to assisting with specific topics.
"When it comes to Fortinet, partners can lean on us, whether that means they want updates or to understand what the latest and greatest is, or side by side learning and assistance.
Exclusive is also offering a cyber threat assessment program (CTAP), utilising its engineers to install FortiGate devices at partners' end-customers to monitor network traffic and provide a detailed report on any issues.
"That's something resellers can lean on Exclusive for. They don't even need to put a resource to it. We can do it, and we have the units as well.
"And it means they can go back to the end user and talk about exactly what issues they have, what their next steps are and a solution.
Alex Teh, Exclusive Networks New Zealand and Pacific Island country manager, says the distributor's Kiwi Fortinet business is going 'from strength to strength'.
"The introduction of New Zealand based services such as first and second line support, free workshops, certified NSE4 and 5 training, plus end user marketing campaigns has really helped both Fortinet and Exclusive New Zealand increase our growth rates," Teh says.
"We are proud to be recognised as the best Fortinet distributor in APJ.
McGettigan thanked Exclusive Networks for its partnership and dedication over the past 13 years.
"Working together we have greatly contributed to a more secure digital future and I look forward to what the next 13 years has in store.