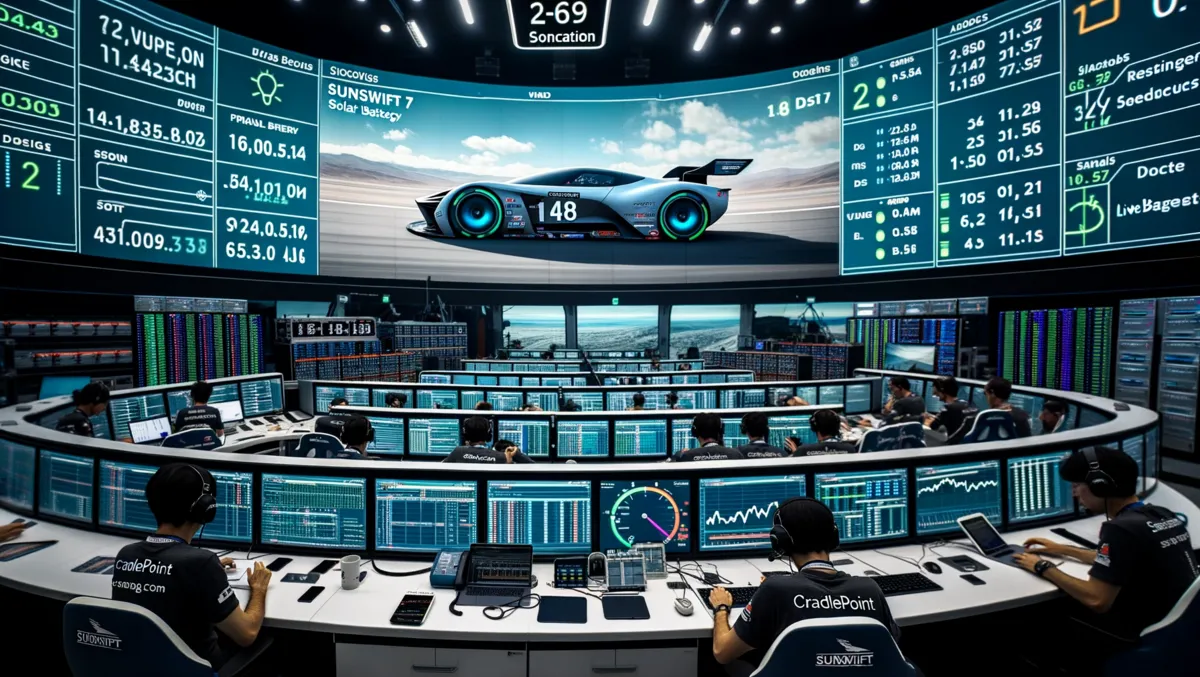 Cradlepoint and UNSW partner for Sunswift 7 solar car's connectivity needs
The global expert in cloud-delivered 5G and LTE wireless network edge solutions, Cradlepoint, has teamed up with The University of New South Wales (UNSW) to provide cutting-edge connectivity for the university's Sunswift 7 solar race car. The race car will compete in the esteemed Bridgestone World Solar Challenge race from Darwin to Adelaide this week.
Cradlepoint's in-vehicle Wireless WAN (WWAN) solutions will ensure uninterrupted connectivity for both the Sunswift 7 race car and the auxiliary vehicles supporting the UNSW race team, either over Optus 4G/5G cellular networks or via Cradlepoint's routers, redirecting traffic to Low Earth Orbit (LEO) satellite where cellular coverage is not available.
The Sunswift 7 team chose Cradlepoint for its proven reliability and seamless connectivity with all the devices used, including laptops, dash cameras, sensors, and tablets. Cradlepoint's solution includes the ability to remotely monitor the connectivity of devices in the race convoy using Cradlepoint NetCloud Manager.
APIs provide GPS tracking to show remote teams the live location of vehicles, ensuring the safety of team members while providing key vehicle telemetry data.
Professor Richard Hopkins, Sunswift Lead at UNSW, expresses his enthusiasm for the partnership: "Cradlepoint is providing the Sunswift team with crucial uninterrupted Internet connectivity, enabling us to send race car telemetry data to the cloud."
"This ensures our wider team can monitor race car performance, such as vehicle speed, solar battery status, and temperature - from the outback to their location," says Professor Richard Hopkins.
The Sunswift convoy is equipped with multiple Cradlepoint routers, including the Cradlepoint R1900 Ruggedised 5G Edge Router, designed for in-vehicle networks and offering superior ruggedness, performance, security, connectivity, and utility.
"After seeing what Cradlepoint can help us successfully do, Sunswift hopes to maintain a continuous partnership with Cradlepoint beyond this event," adds Professor Richard Hopkins.
Nathan McGregor, Senior Vice President of APAC Cradlepoint, notes: "UNSW has a rich history of proving its excellence in technology and innovation on the world stage, and Cradlepoint is proud to support the Sunswift team in this innovative project."
The World Solar Challenge, taking place from the 22nd to the 29th of October 2023, is a prestigious and physically demanding solar electric car competition that has been held in Australia every two years since its inception in 1987. It tests not only the technology but also the resilience of teams who travel from all over the world to participate.
The Sunswift Racing Team, founded in 1997 by a group of UNSW academics and PhD students, is now a product of the hard work and innovation of almost 100 undergraduate students.
Meanwhile, Cradlepoint continues to drive more experiences, more ways to work, and better business results anywhere with its Wireless WAN, advanced 4G and 5G routers and adapters.