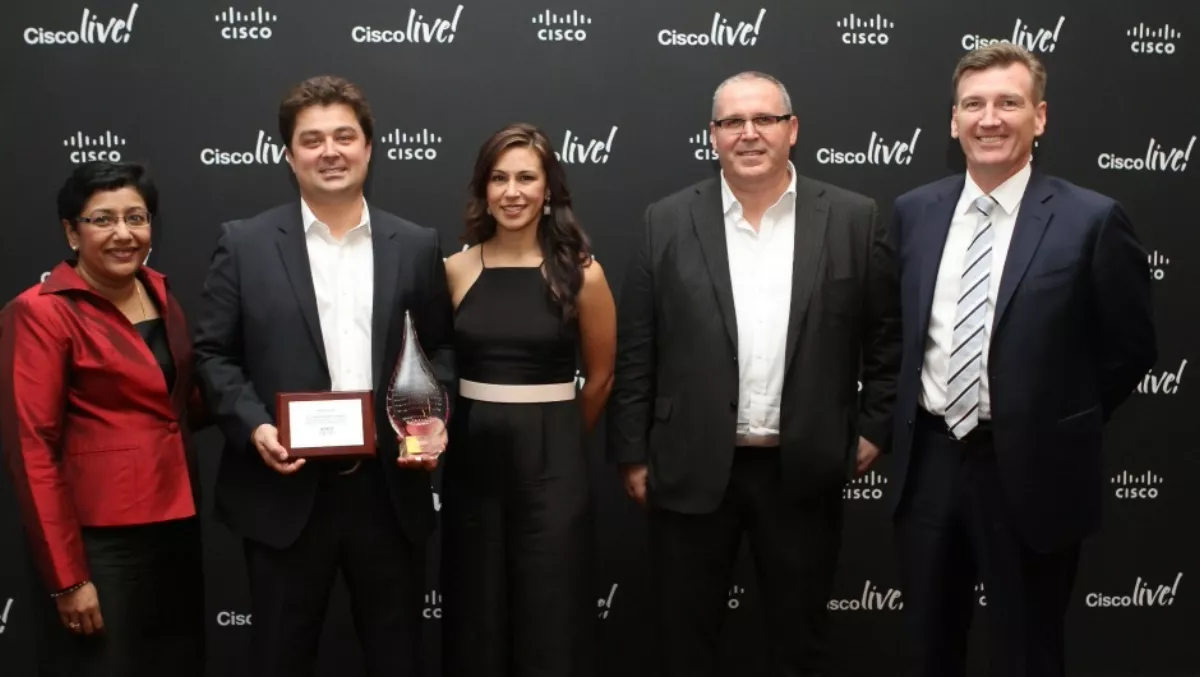 Cisco Live honours ANZ partners
Dicker Data, Telstra, Dimension Data, Optus and UXC Connect were among the winners at Cisco's Partner Insight Awards, held last night at Cisco Live in Melbourne.
The 2016 Australia and New Zealand Partner Insights Awards recognised partner achievements across 23 categories.
Telstra was a double award winner, taking winning a Cisco Innovation Partner of the Year and Cloud Partner of the Year, with Optus Business also gaining two awards: Cloud Partner of the Year and Cloud Solution Excellence Partner of the Year.
Dicker Data took home the award for Distributor of the Year with Dimension Data taking home Capital Partner of the Year and UXC Connect winning Sales Partnership of the Year.
As reported earlier, Datacom Australia and Datacom New Zealand also both claimed an award each, with Datacom New Zealand named New Zealand Partner of the Year, and Datacom Australia winning Managed Services Partner of the Year.
Jason Brouwers, Cisco Australia and New Zealand director of the Partner Business Group, says this years winners demonstrated a range of technical expertise, strong understanding of customers and some incredibly innovative ideas, across the breadth of Cisco's portfolio.
"Cisco is committed to working closely with its partners and collaborating to develop our businesses to mutual benefit," Brouwers says.
"It has been incredible to see the level of innovation that's taking place in the Australian and New Zealand markets this year.
The full list of winners is:
Sales Partnership of the Year: UXC Connect
Teaming Excellence Award of the Year: Claudine Beltrami (Cisco)
Teaming Excellence Award of the Year: Terry Kimball (Dimension Data Australia)
Alliance Manager of the Year: Graham Robinson (Data#3)
Application Partner of the Year: AVI
Mid Market Partner of the Year: Kytec Group
Small Business Partner of the Year: AINS
Innovation Partner of the Year: Telstra Corporation
Vertical Solution Innovation Partner of the Year: MOQdigital
Software Partner of the Year: Dimension Data
Australia Cloud Partner of the Year: Telstra Corporation
Cloud Solution Excellence Partner of the Year: Optus Business
Learning Partner of the Year: Housley
Communications Services Partner of the Year: Optus Business
Cisco Capital Partner of the Year: Dimension Data Australia
New Zealand Partner of the Year: Datacom
Technical Excellence Award of the Year: Chris Day (Data#3)
Solutions Delivery Excellence Award of the Year: Peter Salerno (NEC Australia)
Operational Excellence Award of the Year: Audrey Chea (UXC Connect)
Distribution Partner of the Year: Dicker Data
Community Contribution Award of the Year: Optus Business
IoT Partner of the Year: Rexel Industrial Automation
Managed Services Partner of the Year: Datacom Systems