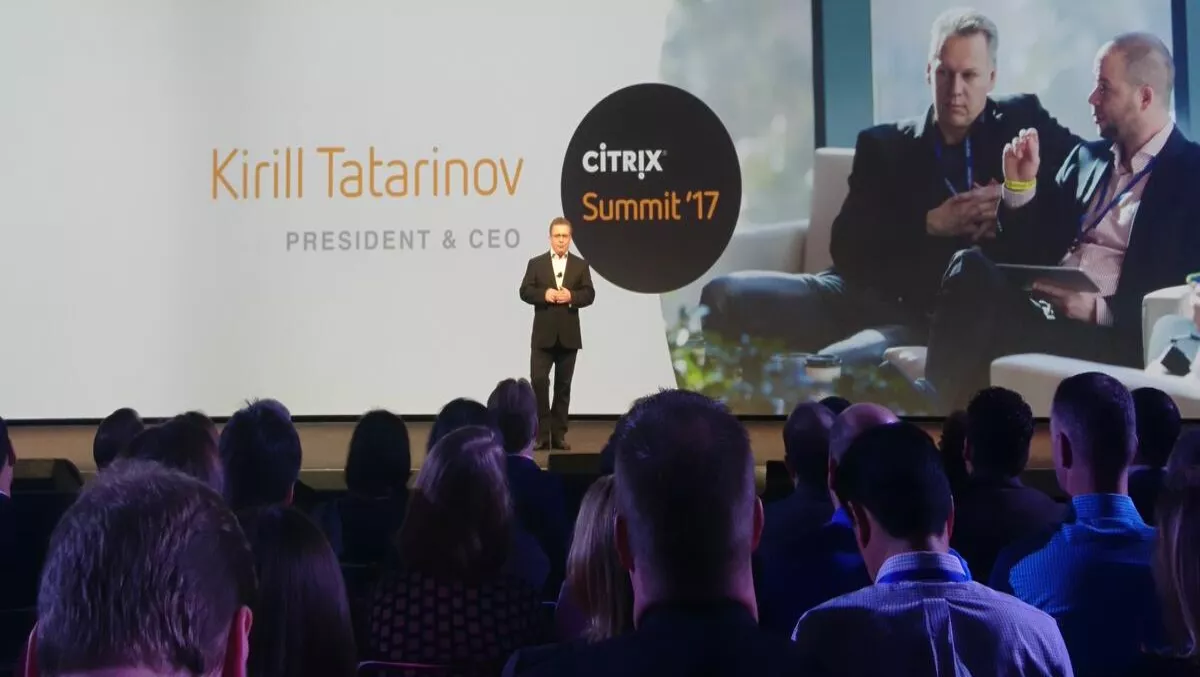 CEO carves out this year's "winning" strategy at Citrix Summit 2017
FYI, this story is more than a year old
The Citrix Summit in Anaheim kicked off with music and a message of winning 2017 over as more than 4000 attendees worldwide converged on the Anaheim Convention Centre in Los Angeles this morning.
Carlos Sartorius, executive vice president Worldwide Sales & Services, opened the conference in a keynote stating that while in 2016 "We had a difficult year, but we did a bit better" and optimism remains high going into 2017.
"We certainly have the right people; we certainly have the right partners and we have the winning strategy," Sartorius said.
"We made a big commitment to reinvigorate the relationship with all of you," Sartorius said about the company's efforts in 2016.
He spent the conference recapping last year's summit, reiterating the goals and priorities the company set. The company gained 4476 new customers, more than 900 cloud customers and $82 million in revenue.
Sartorius said that 98% of the company's product transactions were through partners, generating more than 69,000 points of opportunity and almost $60 million total CAR.
This year the theme is "Winning", a progression from the theme of "Focus" at last year's summit, said Kirill Tatarinov, Citrix president and CEO.
Sartorius said that selling the Citrix story is part of its "winning" strategy, including its sales priorities of leading with Workspace Suite and Citrix Cloud.
"Every company must become a software company and every business must become a digital business or die," Tatarinov said.
He said that cyber security will play a large part in the company's worldview, commenting that this is the first time in history that the topic has been at the forefront of the presidential election, and as a result companies should differentiate themselves by becoming a security provider. Mobile and AI will help form the basis of the company's vision through the cloud, he said.
Tatarinov said that the company will be building a leadership in WaaS, with plans to beat VMware, F5 and growing data through a "walk in the Cloud" strategy.
While Windows is still a strong foundation for the company's products, the company is now focusing more on mobile apps, following the "any app, any device, anytime" motto.
The company has also launched a number of new products for customers. He said that partners will be able to take advantage of these services.
"With these products and services, Citrix and Microsoft are meeting partners and customers wherever they are on their journey to the cloud, whether they continue to keep IT infrastructure on-premises, or they are moving to hybrid cloud or public cloud deployments," said P. J. Hough, senior vice president, Product and Technology, Citrix.
Craig Stilwell, vice president, Worldwide Partner Strategy & Sales, said that in the next 12 months, the company will come up with a simpler partner programme to help eliminate complexities in transactions. For every transaction there can be five partner programmes, he said.
Stilwell also detailed how partners can make money from cloud, new licenses, managed services and implementation.
"Our customers are not going to renew licences in the cloud that they don't use and that they're not happy with," he said.
He said that the company plans to work with partners to revamp its licensing process.
Attendees will vote for the finalists in the Citrix Innovation Award, which recognises partners that helped end customers. Fujitsu's Mike Bullock is a finalist for his work with Statistics New Zealand and the New Zealand Government for his work repairing IaaS after the Wellington earthquakes, and for its government desktop solution.
The Summit will go into more depth about what this means for channel partners over the next two days. We are live from the Citrix Summit. Stay tuned for more coverage.
Related stories
Top stories