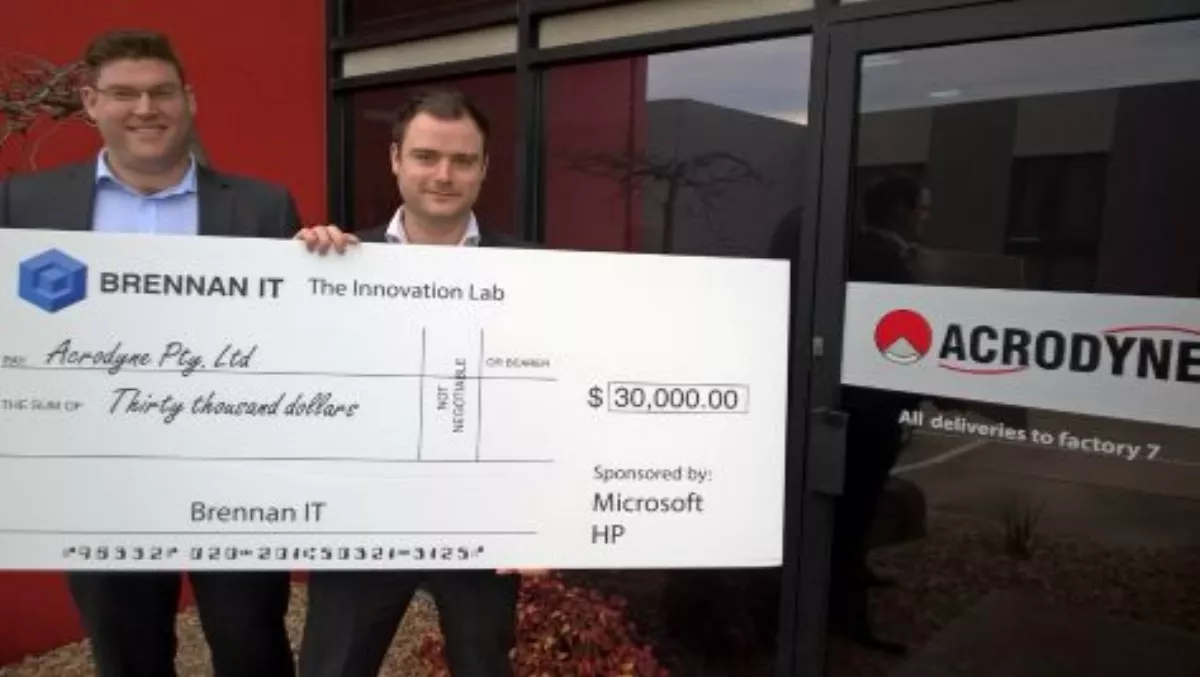 Brennan IT hands over $30k tech fund to client
FYI, this story is more than a year old
Brennan IT customer Acrodyne is $30,000 richer tech-wise after winning the cloud and managed services provider's Innovation Lab challenge.
The Innovation Lab, launched in June, is designed to challenge mid-market businesses to 'get modern' in their thinking and to encourage them to look ahead to their IT needs and the role technology can play in achieving the business' future goals.
Stephen Sims, Brennan IT general manager, says the company was overwhelmed by the response to the competition.
"While we received a number of great entrants, the idea put forward by the team at Acrodyne really impressed us and we can't wait to see how the tech fund will transform their mobile workforce," Sims says.
Acrodyne, which is an actuation, process instrumentation and control solutions specialist, created a mobility environment to enable their sales team to access email and Acrodyne's SAP enterprise resource planning system via apps on a tablet.
While the environment enabled productivity improvements, it didn't provide real-time access to all information from the corporate system and business intelligence reports couldn't be generated on-demand.
Andrew Leetch, Acrodyne's business services manager, says feedback was that the offering was 'a bit cumbersome, or clunky to get in and access documents'.
The company had already started to take some steps towards their goal of improving the system and creating a fully mobile workforce that could work on the system, access shared files and view real time business intelligence from their desk or car when it entered the competition.
Leetch says the win will provide added support to get Acrodyne to its goal faster and with more benefits.
"Having access to this extra funding allows us to really finish the project properly," Leetch says. "Rather than just getting hardware in place and leave it at that, we can actually spend time getting the most out of it.
Sims says it was interesting to hear from the mid-market about their business concerns.
"What we found was that while growth efficiency and cost reduction initiatives are all equally important drivers for the mid-market, there seems to be a struggle between competing priorities," Sims says.
In launching the competition in June, Dave Stevens, Brennan IT managing director, noted that one common trait the company saw across mid-market organisations was that the IT teams were focused on current IT requirements, rather than looking to the future and thinking more broadly.
"We believe this fund will drive creative and forward thinking responses that will give us an insight into how our customers see the future of business," he said at the time.