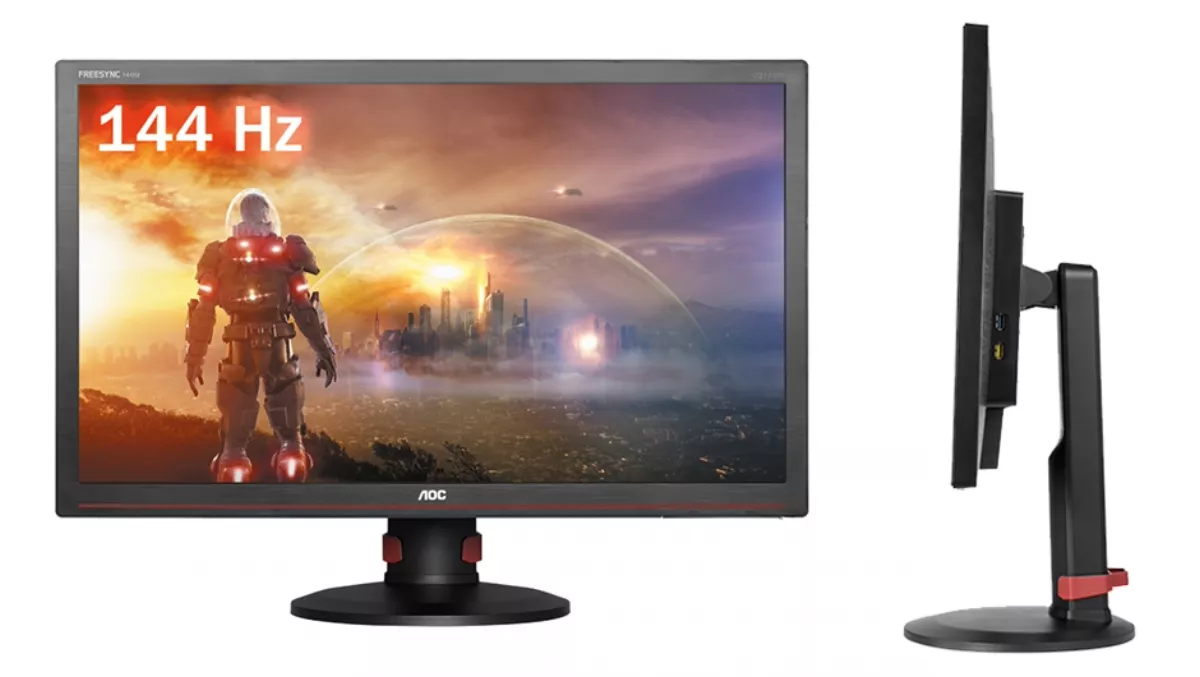 The AOC G2770PF: The gamers' secret weapon
FYI, this story is more than a year old
The meteoric rise of gaming has seen an influx of products designed to provide that 'extra edge' in the crunch moments. A lot of these devices can really stretch a gamer's wallet, if not completely obliterate it.
Fortunately, AOC has taken notice, producing an inexpensive gaming monitor that is packed with a lot (if not all) of the features of its pricier competition.
The 27" AOC G2770PF display has the latest advances in performance and speed for the smoothest, most immersive gaming experience imaginable. It looks dynamic, cast in a luxurious black with an aggressive red accent strip running along the bottom.
The monitor is easy to set-up with your computer or gaming console within minutes, with a wide range of connectors like DisplayPort, HDMI, DVI-D and USB 3.0.
It also has a substantial stand, which means the monitor can be smoothly adjusted in almost every angle possible. This allows the user to game how they want by swivelling left and right, tilting the screen angle and pivoting 90 degrees to suit their eye level. Some gaming sessions can be a real marathon after all, and it pays to be as comfortable as possible.
Features include an ultra-fast 1ms response time and 144Hz refresh rate (compatible with all graphics cards in the market), which deliver sharp, fluid action sequences to ensure you never miss a move. With the clear imagery and accuracy of colour experienced from full HD resolution, gamers will be able to place the enemy within their sights, zooming right in to the individual hairs on their face.
The monitor also has Flicker Free technology. Most LED monitors use an older technology to control brightness, known as pulse width modulation (PWM). This pulsing can cause flickers that may cause discomfort, headaches and eye strain over time. AOC's solution eliminates that problem, even in low-light environments.
One of the outstanding features of this monitor is the AMD FreeSync technology. This seamlessly synchronises the monitor and GPU refresh rates, eliminating tearing, stuttering and input lag while preserving the maximumrate – you do need a compatible AMD Radeon graphics card to make the most of this technology, but it's highly recommended!
The monitor has built-in speakers that are quite impressive, eliminating the hassle of connecting external speakers.
Some of the basic attributes of the AOC G2770PF include:
Resolution: 1920x1080
Panel size: 27"
Response time: 1ms GTG
Contrast Ratio: Typical – 1000:1 DCR – 80,000,000:1
Viewing Angle (H/V): 170/160
RRP AUD $499
The AOC G2770PF essentially packages the most advanced innovations in gaming technology and makes it available for the masses. Regardless of whether you're just getting started in gaming or you're a seasoned campaigner, this monitor is certainly one to watch.
You can find out more by going to www.aoc.com/au or by clicking here.